To earn CEUs for this session, you must be present for the entire live event and discussion which will take place Tuesday, June 2 from 10:00 am – 12:00 pm EDT. You must also complete the Knowledge Assessment.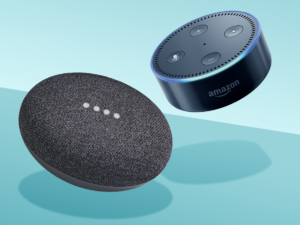 Welcome to the course page for Smart Home Fundamentals! This module is focused on smart homes. We've got a lot to cover! We'll begin with the basics of controlling the home with a look at the two most popular digital assistants, Amazon Alexa and Google Assistant. We'll explore My New Kentucky Smart Home, a Christopher and Dana Reeve grant project which loans smart home gear to Kentuckians with paralysis so they can try it before they buy it. Next, we'll go through the step-by-step process of connecting a smart bulb, a smart outlet, and a universal infrared remote controller that will allow you to use your smart assistant to control any device with a remote. We'll cover everything from unboxing a couple of the specific items used in the Reeve grant project to connecting them using their control apps and setting up integrations with Amazon Alexa and Google Assistant. Then we'll look at how to expand your world through the digital assistants with tasks like ordering food or ride-sharing services. Finally, we'll demonstrate how those with visual impairments can use VoiceOver along with the Alexa and Google apps to get the most control over their smart home environment. The session includes a variety of practical demonstrations and there should be plenty to learn no matter what your level of prior experience.
After the Smart Home Presentation, we'll be joined by high school rising junior Bethany Weber. Bethany is a student in the Biomedical Pathway at the Ignite Institute in Erlanger, Kentucky.  At the Ignite Institute, students focus on project-based learning in science, technology, engineering, arts, and mathematics. Bethany worked this year on a year-long project-based learning assignment. With the help of her brothers and some advice from leading research professors at the University of Kentucky, Bethany developed a smart pill box. The pill box can alert the patient through their Alexa device to remind them to take their medication. You won't want to miss this!
Resources and Just for Fun

Live Session: Smart Home Automation / Tuesday, June 2, 2020 10:00 am EDT

Smart Home Automation Knowledge Assessment